Nepal Highland Treks offer you the Best Nepal Trek, depends on your fitness, your timeframe as well as your budget level. Nepal is a Himalayan country that lies in between two other big countries Indian and China. It is home to the spectacular trek in the world. Nepal provides you some of the famous and regular classics treks like Everest Base Camp Trekking, Annapurna Circuit, Langtang valley, and many others. Based on your time available, we can provide you the best trek plan in Nepal. Here is the list of some of the best trek in Nepal. You can decide one of these.
Everest Base Camp Trek
Everest Base Camp Trek most famous and Best Nepal Trek not only in Nepal but also in the world. After Edmund Hilary and Tenzing Norgay successfully climb Mount Everest, this region starts to get trekkers to trek up to Base camp and climb Mount Everest. Trekking is with great vies of the Himalayas including some of over 8000 meters mountains. Typical villages of Sherpa and their cultures, you are going to explore in this trek. Since it is a famous trek route, the main trail of this trekking is crowded in seasons. The best season to trek in Everest is from March to May and October November. General trekking days are 12 days including your flight days to from Lukla.
Two days acclimatization in Namche Bazzar (3,440m) and in Dingboche (4,4410m) is including in 12 days plan. There is also the option to trek EBC without Lukla flight. Quite long trek itinerary but explore less touristic and virgin lowland Khumbu region. This trek has the option to make in 8 or 9 days taking back helicopter flight instead of trekking the same way back. Only one small Lukla airport is the main gateway to the Everest Base Camp Trek. It is about 35 minute's flight from Kathmandu airport. Entire trekking is staying in local guest houses. Deluxe guest houses are available in Lukla, Namche, and in near Tengboche. The rest of the places (Dingboche, Lobuche, and Gorakshep) are only available in normal tourist standard guest houses. Comparing other trekking routes in Nepal, the Everest region provides quite comfortable accommodation.


Top of the world, Mount Everest (8,848m) at the background from Everest Base Camp (5,364m)
5 Days Trek to Everest
There are a lot of routes and destinations to include with Everest Base Camp trek. A very short trek is 5 Days trek to view Mount Everest and experience of Sherpa land. Reach up to Tengboche Monastery or up to Everest view Hotel Shyangboche. It is the way to encounter closer views of Mount Everest and other Himalayan ranges.
Gokyo Lake Trekking a Different route trek inside Everest National Park
Besides the Everest base camp classical regular trekking trail, you can choose another Best Nepal Trek which is Gokyo Lake Trekking. Gokyo Lake situated in the altitude of 4,750 meters is the highest freshwater Lake and it also called frozen Lake inside the Everest region. The best sunrise and Mount Everest view from Gokyo Ri (5,357m) provides one of the best views from any other climbing peaks near Mount Everest. Another beauty of this trek, you walk nearby Mount Makalu. If you are looking for a long day's adventure trek, the itinerary can be included Everest Base Camp Gokyo Lake Trek with great highest passes like Renjo La and Cho La.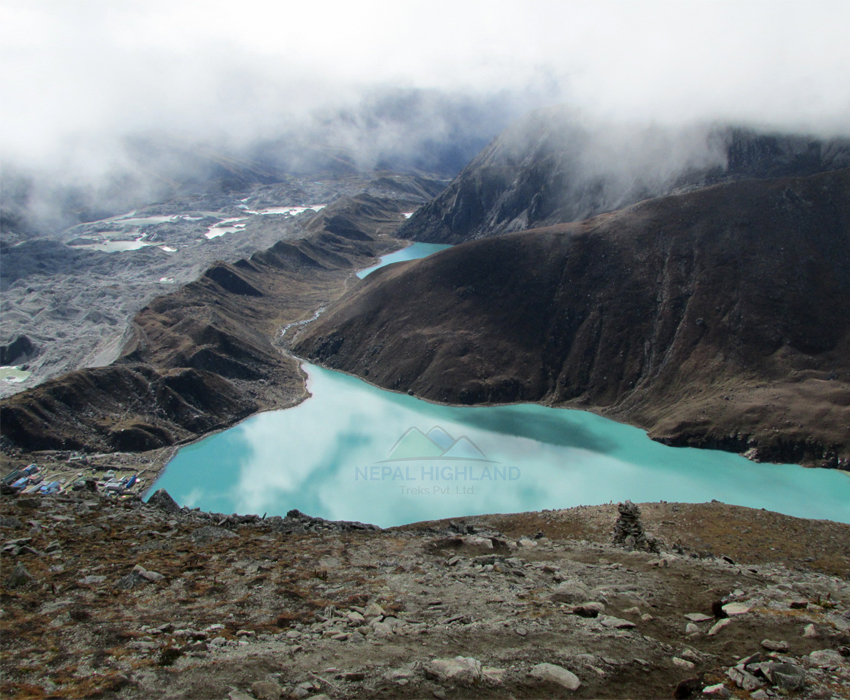 Gokyo Lake and Gokyo village
Annapurna Base Camp Trek
Annapurna base camp will be your next venture, which is the Best Nepal Trek for classical trekking. It is 10 days standard trek that starts and ends at Pokhara. Comparing other trekking routes in Nepal, ABC trekking is more touch with local indigenous peoples and feel their warm hospitalities. Pokhara, the starting point of this trek is a natural city of Nepal and suitable to relax with the good views after long days trek. Poonhill on the way of this trek is a famous scenic hill for panoramic mountains and best sunrise. The maximum altitude of 4,200 meters Annapurna Base Camp is the highest altitude you reach. When you trekking back after reaching Annapurna base camp, you trek with different routes. The entire trek is staying in local guesthouses and uses their local foods. The standard days of this trek are 10 days. There is now an option to make it shorter or even longer to explore more.
3 Days Annapurna Trek (Best Short Trek in Nepal)
If you are short of full time for long days trek to Annapurna base camp, you have the option of 3 days trekking in Annapurna. Reach up to 3210 meters altitude Poonhill. This is a test of full Annapurna trekking.


view from Poonhill during 3 days Annapurna trekking
Annapurna Base Camp by Helicopter
An hour helicopter tour from Pokhara reaches up to 4200 meters altitude Annapurna Base Camp. Enjoy the morning sunrise with panoramic mountains around. Everyday group joining helicopter flights operates from Pokhara.
Annapurna Mardi Himal Trekking
This is newly opened different route trekking than regular Annapurna trekking. This is one of the short and Best Trek in Nepal inside Annapurna conservation. It reached up to 4,500 meters altitude Mardi Himal base camp with the massive view of Mount Fishtail and Annapurna ranges. A newly built trekking route is less crowded and local tea houses provide accommodation and food services. The cultural route also gets an opportunity to stay well manages typical homestay experience in Lwang village.
Annapurna circuit with Tilicho Lake trekking
Bit long days and more adventure than any other trekking inside Annapurna are Thorang La Pass Trekking including Tilicho Lake. It is also called the Annapurna circuit trek is the oldest famous trekking route in Nepal. Highest fresh Lake Water lake Tilicho situated at 4,919 meters is the beautiful lake surrounded by the high Himalayas. 5,416 meters altitude Thorong La pass is the beautiful Himalayan pass covered by snow most of the time of year. High mountains seem much closed from this pass. Entire trekking is staying in local tea houses and using their foods. Tourist standards accommodations are managed by local peoples and local foods are hygienic. Trekkers can choose to make long days trek or make it shorter by using transportation is the first section of the trek and at the end of the trek.
Langtang valley and Gosaikunda Trek
The standard days of Langtang Valley and Gosaikunda Trek is for 12 days which is one another Best Nepal Trek. It is beautiful trekking near Kathmandu. Langtang Kyanjing Ri is above 5000 meters. Another above 5000 meters pass is Lauribinayak. Trekking through Tibetan influence Langtang valley with the great views of Himalayas. Trekking towards holy Lake Gosaikunda. Trekking back to Kathmandu via Helambu. Langtang region is one of the most damaged trekking regions in Nepal during the earthquake Nepal – 2015. After the renovation of the trekking route and local villages as well as local tea houses, the Langtang region is renovated with entirely new accommodation. Langtang Gosaikunda region was less damaged in the earthquake. Langtang National park requires national park permit for foreigners other than Nepalese. National park permits and TIMS cards have to obtain in Kathmandu before your trek starts. Trek starts from Shyaprubesi. Kathmandu to Shyaprubesi transportation has two choices. Hiring a private jeep which is recommended. It is about 7 to 9 hours driving. Another option is to take a local bus from Kathmandu.


Langtang Trekking route
1 Week trekking in Langtang
If you are short of full time about 2 weeks, you can choose to trek Langtang valley only within a week's time. It reaches Langtang Kyanjing Gumba, climb Chherko – Ri which is above 5000 meters altitude. Shining mountain views, Tibet influence hospitalities and peoples, and fewer trekkers comparing Everest and Annapurna region. Kathmandu to Shyaprubesi, Shyapru to Lama Hotel, Lama Hotel to Langtang, Langtang to Kyanjing, One extra day there to explore around, and trekking the same way back to Shyaprubesi and driving back to Kathmandu is the schedule of this trek. This trekking route does not compare with any other trekking. It has its own charm we listed it as another Best Nepal Trek in our blog.
Manaslu Trek
Manaslu region is one of the remote trekking regions in Nepal. The region is restricted land and a special trekking permit is required. Professional trekking guides should lead this trek through a registered Nepalese trekking company. The best adventurous classical trek is a less tourist area of Nepal that offers the vast experience of mountain scenery, different and beautiful landscapes, Rivers, waterfalls, beautiful forests, and many more. With these reasons, Manaslu trek becoming popular compared to other better-known tea houses treks in Nepal. The trek takes you around Mount Manaslu, the world's eighth highest mountain of 8,163 meters. Total 2 percentage tourist in Nepal goes Manaslu Trekking, which means this region is with fewer peoples. Mixed cultures Hinduism and Buddhism this trekking route is to explore different cultural peoples. The entire trek is facsimiled with tourist standard tea houses for overnight and provides local foods.


5106 meter high Larke Pass during Manaslu trek
There are more than fifty different trekking routes in Nepal. Depend on your interest, we can suggest you and prepare a very suitable plan. Trekking in remote areas of Nepal is always suggesting to join with a registered local trekking company to be secure, confident, and to get more information from our professional trekking guide about local peoples and to know interesting stories. Small group joining trek also available with us. The Best Trekking Season is from the month of March through May and another season from September to November. There is the best trekking destination during monsoon season (June till August) and for the winter season (December to February).