Hire a jeep from Kathmandu to Chame Manang. Toyota land cruiser are require in this section. Total kilometer is about 238 and 9 hours of driving. Road from Kathmandu to Besisahar is well paved highway which is 173 kilometer may takes 5 hours. Besisahar to Chame Manang is about 65 kilometer may takes another 4 hours. Entire rough road from Besisahar to Chame need 4wheel strong jeep. Nepal Highland Treks provide you good Toyota land cruiser with experience rough road driver to hire from Kathmandu to Chame Manang. The famous trekking route Besisahar to Chame Manang is disturb for trekking after busy rough road. It is now better to drive entire rough road up to Chame and start trekking toward Annapurna round. The famous beautiful Tilicho Lake is also in this route. The beautiful scenic road is with beautiful Himalayan views, waterfalls, local villages and exploration of local activities. There are tourist targeted stop points where you can buy foods and drinks. Driving up to Chame is require Annapurna conservation are permit for foreigners other than Nepali citizen. ACAP permit can be obtain at tourism board building Bhrikutimandam Kathmandu or in Besisahar.
Kathmandu to Chame Jeep driving
Start early in the morning at around 6am with your pack breakfast. You can ask jeep driver to stop in good place to have your breakfast with tea/coffee. Jeep can adjust up to 7 peoples. 1 at front near driver, 3 at middle and 3 at back. Your bag pack can go at roof of the jeep. There are many stop points to get good picture. Driver will be flexible to stop on those places.
Option to drive Chame from Pokhara
If you are already in Pokhara and want to drive Chame from there, this is possible too. Pokhara to Chame is 106 kilometer may takes about 3 and half hour. Cost of jeep either from Kathmandu to Chame or from Pokhara to Chame is same. Instead of Toyota land cruiser we also provide you 4wheel Scorpio in dry season.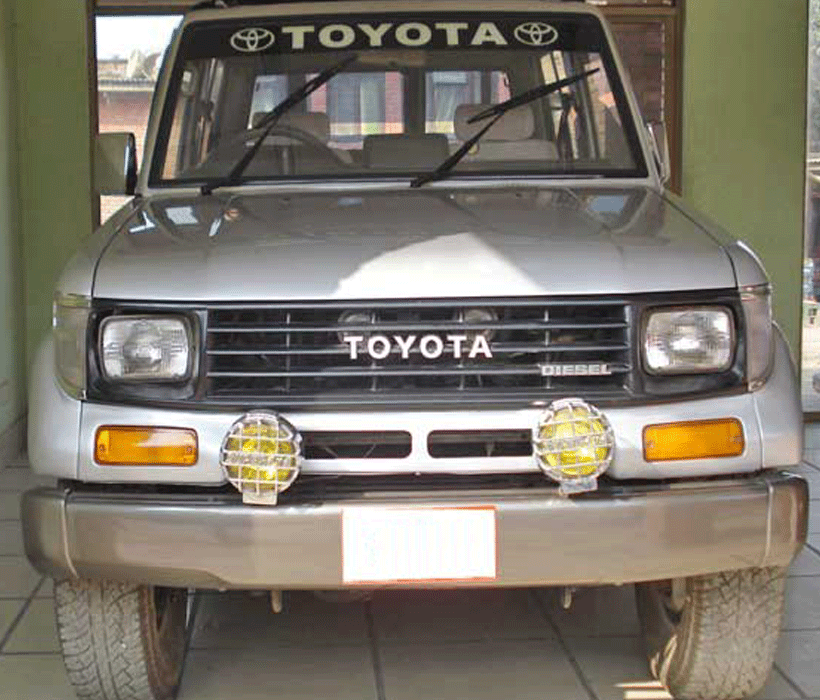 Type of 4wheel Toyota Land Cruiser for renting Kathmandu to Chame Manang or Pokhara to Chame Manang.
Booking procedure
Confirmation by email and your fixed date is booking procedure to rent jeep to Chame. No need any advance amount. Pay full amount once you are here in Kathmandu before a day of your trip stars. USD cash, Euro, Canadian dollar, Australian or any other currency is acceptable. You also can pay by Nepali cash as per official bank rate. Paying by credit card cost you more 4 percentage
Get help to obtain your permits
Nepal Highland Treks can help to issue your permits if you are continue to trek from Chame to Annapurna conservation area. Annapurna conservation area permit cost you USD 30 and TIMS card to trek is USD 20 per person. You need to send us your passport copy by email.
Hire trekking guide or trekking porter with us
We can provide you our regular, experience trekking guide to lead you're trekking in the Himalaya. It is safe to trek with guide in your trekking. Our guide will be well equipped, insured. USD 25 per day for one guide also including his salary, foods and accommodation on the way. Trekking in Nepal with guide and Porter is not only to get help to show the way, arrangement of accommodation and foods, it is also to exchange their experience, exchange cultures, get information about local peoples and places too.


Beautiful waterfalls on the way from Besisahar to Chame Manang
Take free information about your travel in Nepal
You can take any information about trip in Nepal, Tibet and Bhutan with us. We can give you free information. We are also trip organizer of Tibet Bhutan and Mount Kailash.
Buy trekking package with us
It is easy for you're to get entire trekking package with us. We provide you reasonable cost and service based package. Trekking packages including your foods, permits, guide, porters, accommodation and emergency evacuation management. We provide you best and suitable trip plan as per your desire. Trip itinerary is always possible to customize.