Tea House Trekking is to stay in local lodge in your each night during Trek in Nepal. Major and famous trekking areas in Nepal provide comfortable tea houses with standard services of foods, drinks and accommodation. When Nepal starts to get adventure tourist at the beginning, local peoples used to provide tea and shelter in their house for tired tourist. From that time the term of tea house begins and now there are comfortable tea houses build mostly by local peoples as business. Tea house is very slightly from region to region. As a whole tea houses at every regions are simple stone and wooden buildings that have separate kitchen room, comfortable dining hall, common and attached toilet bath room and bathrooms separately.
Accommodation in Tea House
Normal accommodations in entire tea house routes are simple two bed rooms with a table in middle pillow and a blanket. It is neat and clean. Area of National Park, conservation and other reserve area controlled by government have limitation of tea houses. In the area of high altitude sensitive lands. There are also twin sharing rooms but at the time of peak season, because of over flow of trekkers have to share room with group as group sharing accommodation. Some of the trekking regions like Everest, Annapurna deluxe accommodation have also build.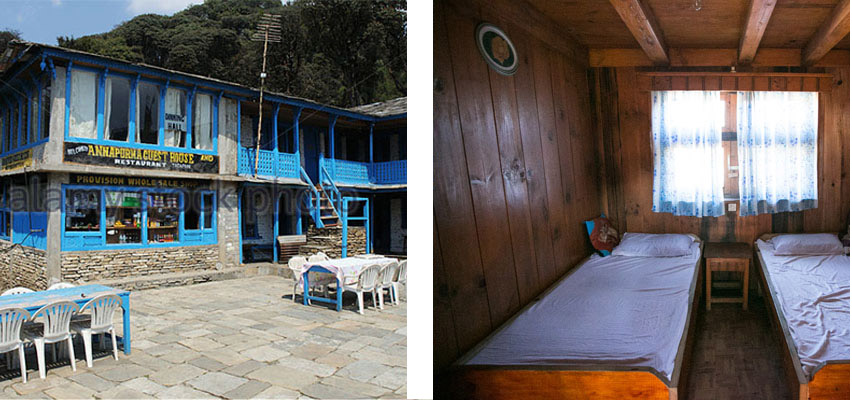 Tea House building and room in Annapurna region of Nepal.
Foods in Tea house
Almost all the tea houses have their similar food menu of Nepali foods, Indian foods, Pasta, Pizza, rice, momo and noodles items. Meat items in tea houses at the higher land are not fresh. Foods here are made professionally hygienic. The higher you go foods cost increase. Trekking package from Nepal Highland Treks is including your three times foods; it is freely chosen from foods menu. Similarly every tea house are with bar. Alcoholic and soft drinks including bottled of water are easily available.
Electricity and charging facility in tea house
Electricity in most all of the tea houses is available. Low region of trekking have electricity line from central project. Every room get charging plug. Once you hike up, you will find only solar electricity. Charging facilities are available only in main counter of hotel with extra cost. When weather turn bad no sun, no electricity.
Internet in tea house
Most of the tea houses on the way trekking in Nepal are facilities with WIFI service now a days. Much remote trekking area might not get any facility of this. It is extra pay to get WIFI password to access it in your device.
Toilet and shower facility in tea house
Tea house on the way trekking is available of western flush common toilets. Attached toilets with hot water shower are available with few rooms. There are good rooms in Everest region than any other tea house route. Hot shower charge is extra from tea house when you want. Cost is included when you stay in room with attached bath. Cold shower is free.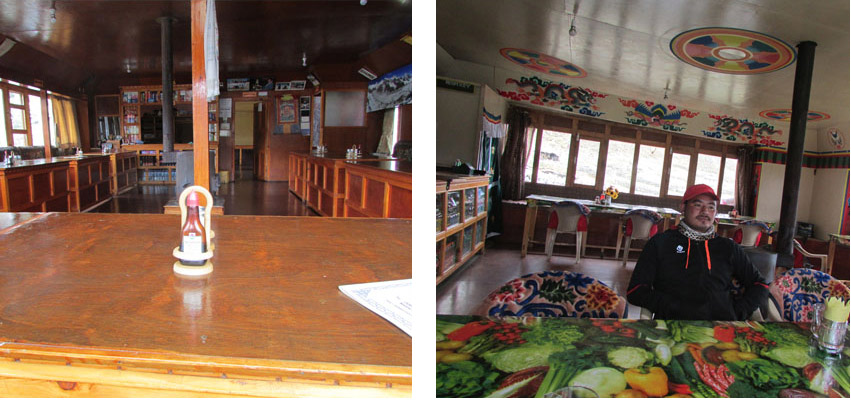 Tea House Dining hall