To get a nearer view of Mount Everest is just an easy way. You also can be at front of Mount Everest and spend your memorial time without any trekking for long days or involving in any physical challenges. Here we introduce 4 different plans that are the best way to view Mount Everest and surrounding Himalayas. Although trekking in Nepal and the Everest region is the best way to explore not only mountains but also to stay closer at the naturally rich places, touch local peoples and their unique cultures and many more.
Mount Everest View Tour – 1 hour Mountain flight from Kathmandu
1 Hours mountain flight is the best way of Everest View Tour. It is from Kathmandu domestic airport with a scheduled flight every morning. Flight flies at the high of 22,000 feet over the mountain range. Enjoy the panoramic view of the majestic Mount Everest from the comforts of the airplane. Every passenger gets a window seat to view of Mountain range including some 8000 miters mountain. Mountain flight is in the region of Khumbu Himalayas. Buddha Air, Yeti, Guna and Simrik air is operating every morning mountain flights from Kathmandu. Nepal Highland Treks is as authorize the company to operate a flight with any of these airlines.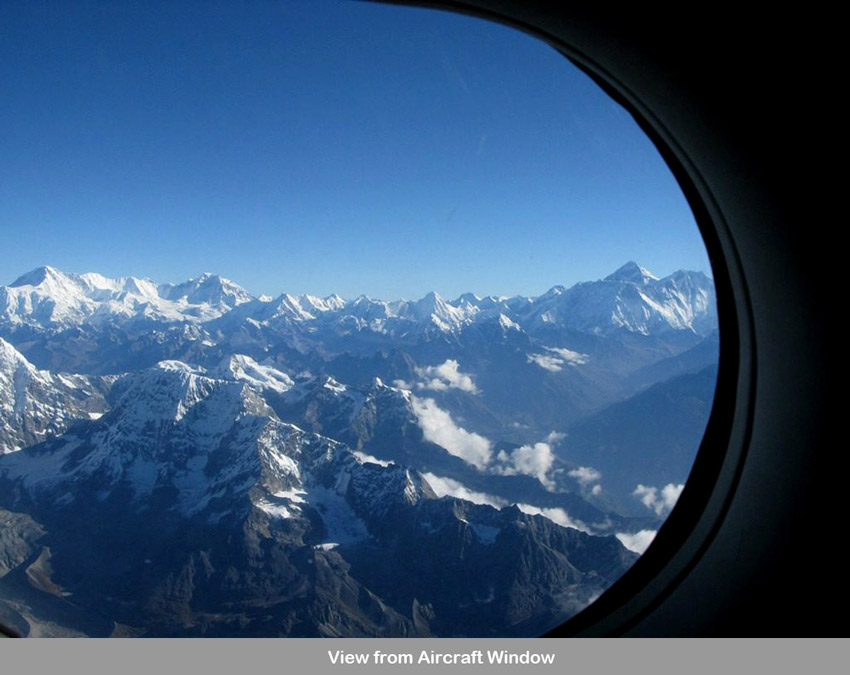 6/7 hours chartered Heli flight to Mount Everest and Panoramic Mountain from Kathnandu
It is a chartered Heli tour from Kathmandu airport. Small helicopter having 5 seats able to carry 4 peoples normally. It is the best way to get a closer view of Mount Everest and neighbor peaks. Heli Tour is to Everest and other neighbor peaks from Kathmandu airport and back. You also will have opportunity to breakfast at the highest 5-star hotel in Everest View Hotel with the front view of mountains including Everest. The route of flight is from Kathmandu to Lukla, Pheriche, Everest Base Camp, Kalapathar, to Gokyo, Syangboche, Namche to Lukla and back to Kathmandu. Flight over fly Everest Base camp and land at Kalapathar (5,545m). Landing this flight in Everest Base Camp is really depending on weather condition. It normally does not allow to land and view from EBC is not much scinic than landing in Kalapathar. Kalapathar is the perfect place to view world's highest mountain peaks. This tour called Mount Everest Helicopter tour and the best season of this tour is from March to May and September to December.
We offer group joining helicopter tour with cost of USD 1000 per person. This is including heli flight with other peoples. Extra cost in this trip is your transportation to kathmandu airport, Everest national park permit, airport tax and breakfast in Everest view hotel. You also have option to take your private tour. Private Heli tour cost you USD 3800 in total.


Book every day fixed departure Helicopter tour to Everest with the cost of USD 1200 per person.
One morning driving tour to Nagarkot to see the far view of Mount Everest and panoramic mountains
It is one of the best cheap tours to view Himalayan ranges including far view of Mount Everest. Nagarkot is 27 kilometer from Kathmandu and one of the famous tourist hillsides surrounding with green and dense forest. Best sunrise and mountain views can be seen at clear day. Nagarkot have facilities of best hotels, standard and normal hotels. It is near from UNESCO heritage Bhaktapur Durbar squire. Single-day, 2 days, or 3 days hiking plan can be done inside Shivapuri National park from Nagarkot. This is the best place to make hiking around Kathmandu.


Panoramic Mountain view from Nagarkot
Tour to Tibet with Lhasa and Everest Base Camp
This tour is as famous name as Lhasa Everest Base Camp Tour of 7 nights 8 days from Nepal. It is an overland tour via Nepal. Nepal is boardering with tibet, it takes about 6/7 hours driving from Kathmandu (The capital of Nepal) Tour is entirely driving with private transportation. It reaches the north side base camp of Mount Everest by drive. Stay overnight at Rongbuk Monastery near Everest Base Camp. Tour also is included Tibetan historical cities like Lhasa, Shigatse, and Gyantse. This tour can be operate as private tour and having opportunities of joining the group.


Mount Everest View from base Camp of Tibet site