Nepal is much suitable for Motorcycle Tour although most of the peoples they know Nepal is more famous for Trekking Nepal. Country of wide varieties in landscapes, different climates and the road in the mountain region is small, muddy and windy which are suitable and enjoyable for motorbike riding. Anyone can customize riding tours in Nepal as per their timeframe. City to city riding is to explore cultural heritage sites, natural landscapes, and peoples. The Himalayan region motorbiking reach altitude land bordering up to Tibet which gives you an experience of high mountain region with giant mountain views. Ride to Upper Mustang is one of those where you will reach up to 5000-meter altitude. The famous Motorbiking Nepal to Tibet is also another suitable riding adventure to starts from Nepal.
Upper Mustang Motorbiking one of the best Motorbiking route in Nepal
The ride starts from Kathmandu to a naturally beautiful city Pokhara. Enter first at lower mustang part following the bank of Kaligandaki River road. Explore the longest suspension bridge in Kushma, Natural hot spring in Tatopani village, walking around typical villages like Marpha, Kagbeni with many important monasteries. Muktinath temple at 3800 miters altitude is another attraction in this riding tour. The Upper Mustang region starts from Kagbeni. The landscape begins to be less vegetation like a scenic plateau with massive mountain views. Lo-Manthang is headquartered of Upper Mustang region have exploration days around the local settlement and visit century's old monasteries and caves. Ride till Kora La pass (Nepal Tibet boarder) and same way back to Kathmandu. Upper Mustang before was much famous for Trekking and after road access, Upper Mustang is more suitable now for motorcycling as well as driving with the jeep. The itinerary of the Upper Mustang driving tour is the same as motorbiking.

Join us Upper Mustang Motorbiking tour. The best season April, May, June, October, and November. Customize the plan as you want.

Lower mustang OR Jomsom Muktinath motorbiking for a short biking tour in Nepal
Choose the lower mustang region for your short motorbiking tour to explore the cultural Himalayan route. Kathmandu to Pokhara, Pokhara to Kalopani via Kusma Bridge (one of the biggest suspension bridge in Nepal), Beni and Galeswor, Kalopani to Kagbeni, Kagbeni to Muktinath temple and same way back to Pokhara. The highest altitude you will reach is about 4000 meters. Muktinath temple is one of the important Hindu and Buddhist temples from where Scenic Mountain and landscape can explore. This is also the main place to end Annapurna Thorong La pass trekking. One can take holy bath and take the chance of praying the temple. Kagbeni village one of the typical Tibetan style villages still can explore the oldest monasteries and unique lifestyle of local peoples. Warm welcomed peoples in entire region provide locally manages tea house types of accommodation which are all tourist standard neat and clean with inside bathroom. Great chance to visit local villages. Meet peoples and take good pictures. This route is also with beautiful waterfalls, riding through Kaligandaki Riverbank and also one of the scary riding roads in Nepal.


Our clients posing a picture during Jomsom Muktinath Motorbiking tour | Lower Mustang Motor Biking Tour
Motorbiking to Manang and hike to Tilicho Lake (4,919 meters)
Another short Motorbiking tour in Nepal is a ride to Manang. Manang is a typical mountain village at the altitude of 3,520 meters culturally similar to Tibet. Less vegetation landscape is also similar to the Tibetan plateau. After Manang, it is another 2 hours hiking reach at the highest mountain Lake Tilicho. Start riding from Kathmandu and reach Besisahar at first day. After Besi Sahar, riding through mountain muddy road which is in between the beautiful forest and local villages. Low land riding road is with waterfalls, forest and different settlement of different cats of peoples. When you enter high altitude land, the region became less vegetation culturally Tibetan peoples with lots of unique memorial Chortens and monasteries. Riding road access is up to Khangsar village after crossing Manang. From Khangsar we hike to Tilicho Lake which is 3 days up and down. Same way riding back to Kathmandu. This is the famous Annapurna Nepalese Trekking route.


The Highest Lake Tilicho (4,919meters) We ride up to Manang Khangsar village and hike to this point
Everest view Motorbiking tour
Mount Everest (8,848 meters) is the highest mountain peak on this earth. Everybody have their dream to explore it. Nepal is the land that lies Mount Everest. There are several ways to reach near of Mt Everest. Climbing Everest is every body's reach. Trekking up to Everest base camp, Climb Kalapathar to explore the nice view of Mt Everest or short trekking to Everest viewpoint. Another good option is to take a motorbiking ride up to Everest's viewpoint. The lower region of Khumbu has a nonpaved road suitable for adventure motorbiking. It is not only riding for Everest's view but also exploring local villages, meet different cultural peoples, explore the natural beauty of the region, and for many more.
Best Himalayan biking tour in Nepal
This program is covering most beautiful and important cities, villages of Nepal, and mountain regions. Kathmandu city of cultural heritage, Nuwakot the small town with old palaces, scenic views, and best motorbiking road. Natural city Pokhara and its surroundings beautiful Lakes, panoramic mountain and green forest. Best sunrise and Frontier Mountain View place Sarankot is also in this plan. Birthplace of Buddha Lumbini, famous natural National Park Chitwan National Park, stay overnight in Bandipur village on the way back to Kathmandu. This is the tour in Nepal for all seasons but still better to skip monsoon season. (Late June till the end of August). Easy to organize in different ways. We can plan this trip as per your budget. Simple accommodation till 5 star super deluxe hotels are available in entire places.


Maya Devi Temple the birthplace of Buddha in Lumbini. We reach there by riding
Nepal to Tibet motorbiking – one of the best high land riding tour
Tibet motorbiking tour is more easily accessible from Nepal. It is easy to get a motorbike on hire, easy to get bike mechanic from Nepal. Permits of a motorbike, visa, and other immigration arrangements of the motorbiking group to Tibet is quite a long process and need more documentation time. The entire process will make by agency (Nepal Highland Treks). There are two famous motorbike route Tibet Everest Base Camp and Lhasa Everest Base Camp riding. Crossing the world's high passes road with beautiful landscape, Lakes, mountain and explore typical Tibetan culture. Visit modern cities with preserved monuments. Entire places we stop for night is facilities of Hotels and Guest Houses.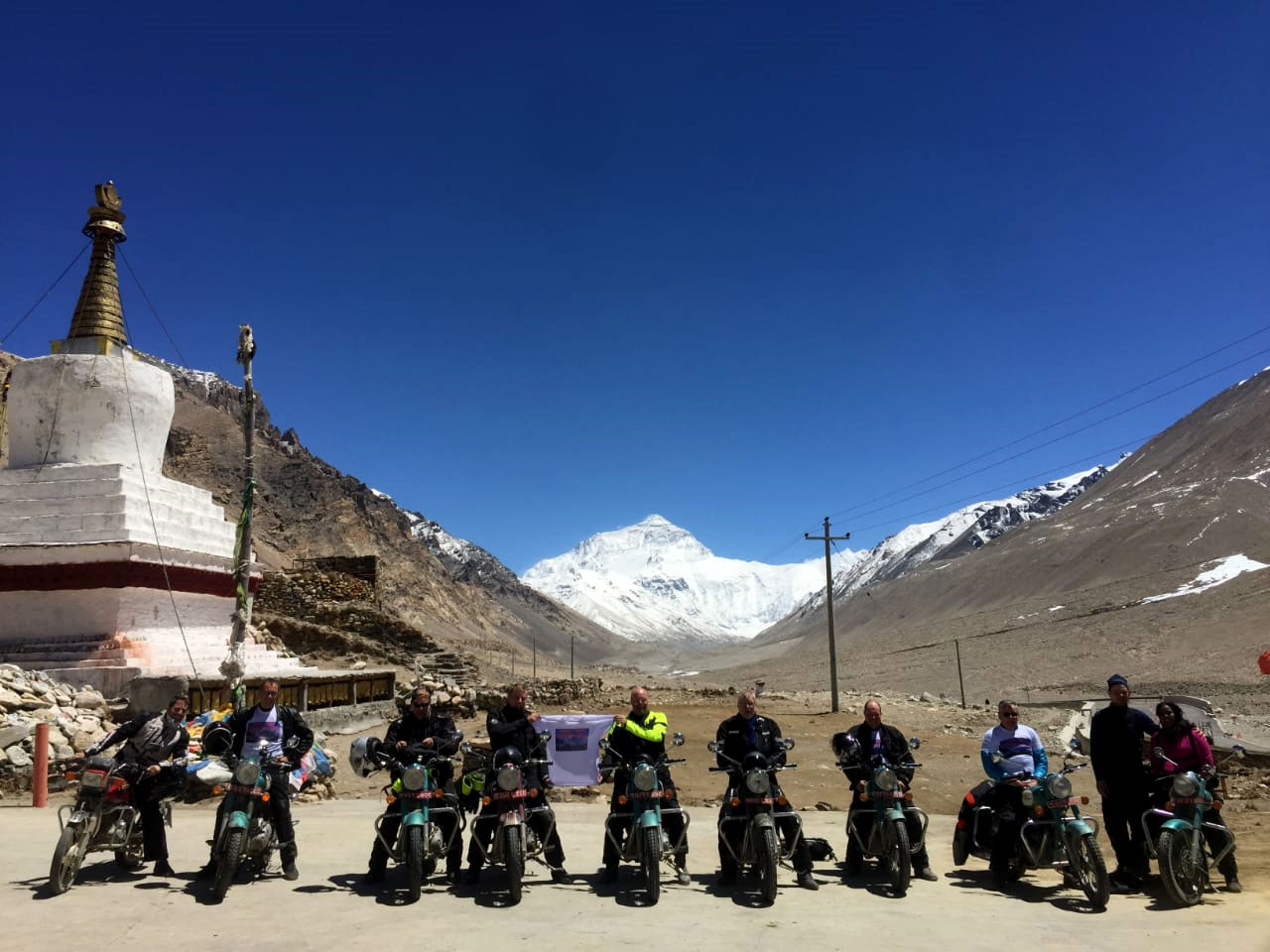 Riders are near at Everest base camp with their bikes
Nepal Highland Treks is Nepalese Trekking Company can provide you with customizing riding plan in Nepal and Tibet. We also provide you joining option if you are single or small group size which makes reasonable cost and riding fun with different peoples. You can hire suitable bike from us or bring your own. We sincerely look after the necessary permit and immigration formalities.