Tiji festival is the attractive annual festival consisting of Tibetan Buddhism celebrates inside the compound of Choedhe Monastery in Lomanthang of Upper Mustang. The main days of the festival is for three days and it happened normally in mid of May month. The festival is all about saving Mustang from destruction. Monks from different monasteries gather these days to perform special demon dances in the music of their instrument.

A video about Tiji festival, monks are performing different mask dance with best Buddhist musical instruments
The powerful dances perform by monks' wearing different masks and elaborate dresses with their jewelers. People in Mustang strongly believed that this festival brings hope and peace and protects them from evil forces. It is base on the myth of a deity Dorje Shunu also called Vajrakila, who took rebirth to control all the evil forces and demons that created hell and suffering on earth. Tiji festival in Upper Mustang is an impressive reflection of the inspiring and vibrant Buddhist culture of the local region.
Tiji festival 1st Day
The first day of the festival is dance performing by local monks. The dance name "Tsa Chaam" tells the story of the birth of "Dorji Sonam" who is reincarnated Buddha to a demon. This demon stressed the kingdom of Mustang and brought havoc to the country. You can witness the monks enacting the harassment of the said demon on the peoples of the Mustang region.
Tiji festival 2nd Day
On the second day of the Tiji festival is also a performing dance called "Nga Chham". With this performance, Dorjee Sonam tries to return the demon to the Buddha land. The monk from Choedhe Monastery plays the role of Dorje Sonam. Choedhe Monastery belongs to the Sakya sect of Buddhism. The monastery is headed by a Rimpoche. About 65 monks from Lo Manthang, Nhenyul, and Chhosyer reside in this monastery.
Tiji festival 3rd Day
On the third day of the festival performs the "Rha Chham" dance. In this third day ceremony, Dorjee Sonam victory over the evil demon and throughout him from the Mustang region. He through statue made from barley which represents demon.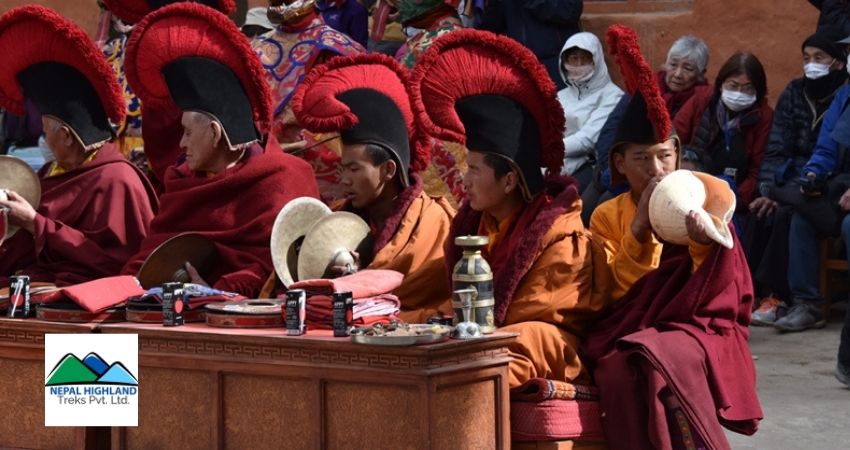 Tiji Festival (Upper Mustang Trek) Permit
Tiji festival performs on restricted land. Upper Mustang and it,s kingdom Lomanthang is on a list of the restricted areas of the Nepal government. Every foreigner other than Nepalese should pay for a restricted area permit. USD 500 is minimum for 10 days and USD 50 per day per person more, if they want to stay more than 10 days in this region. Permit entry starts after Kagbeni. Only registered trekking companies of Nepal can issue this permit from the department of immigration.
The registered guide is compulsory with tourist groups visiting Upper Mustang. There should be minimum two-person foreigners to obtain this permit. Annapurna conservation permits also need to issue entering this region. If you are a single traveler, we can make you join our other tourist group. Those who are riding a motorbike, driving jeep or cycling does not have to pay more fees for their bikes, jeep or cycle.
Tiji Festival Entrance Fee
To enter and explore the Tiji festival, one has to pay the entrance fee. The entrance fee of this festival is depending on where you stay to explore this festival. This fee is including in the package and the guide will pay for you.
Upper Mustang Tiji Festival Trek
Upper Mustang is one of the restricted trekking regions of Nepal bordering Tibet. It can be 13 days of trekking starting from Jomsom. Drive or fly to Pokhara from Kathmandu, another flight to Jomsom from Pokhara, and start trekking from there. Trekking Upper mustang at the Tiji festival is not only exploring the occasion but also viewing the scenic landscape, snowcapped mountains, know typical cultures, peoples, historical monasteries, caves, and beautiful ruins.
Trek starts from 2810 meter altitude Jomsom. The maximum altitude reach in Upper Mustang trekking is 3,840 meters Lo-manthang. Everyday 5 to 7 hours walking and stay every night in local guest houses. Explore the three days festival and hiking back following the same way down to Jomsom and fly back to Kathmandu.
Tiji Festival Driving Tour
Upper Mustang now is entirely touched with the motor-able road. Kathmandu to Lo Manthang is about 440 kilometers. Tour can be 10 days all the way driving in and return. Good condition 4wheel jeep needs for this tour. Tiji festival driving tour can be customizing its itinerary. Tour starts from Kathmandu also can start from Pokhara or from Jomsom airport.
Tiji Festival (Upper Mustang) Motorcycling Tour
Motorbiking tour to Upper Mustang is an adventure riding tour of ten days. During the tiji festival, one can ride a motorbike to Upper Mustang. Motorbikes reach all the way till Lo Manthang and till Nepal Tibet border. Adventure tours should be lead by professional guiding and mechanic team with proper tools. Since fuel stations are not available for this reason, the fuel needed for bikes should bring from Beni by putting it in a backup jeep. The motorcycle can hire from Kathmandu or bring your own from the country. No extra entrance fees apply for your bike to enter Upper Mustang.
Accommodation during Tiji festival
The entire tour accommodation in Upper Mustang during the Tiji festival is in local hotels/ tea houses. There are only a few accommodations in every station that we spend nights in. During this festival, accommodation in Lomanthang can be more demanded but manageable. Simple but neat and clean local tea houses are available on the entire tour. Most of the lodges and guesthouses in the Upper Mustang area offer accommodation with a western toilet and other basic facilities which are tourist standard. Lo Manthang, Jomsom, Kagbeni are the places where you can choose better than tea houses accommodation. Trip leading by our professional guide will be advised to choose best available accommodation every place.
Foods in Upper Mustang during Tiji festival
Foods are not international level but hygienic. Your dinner and breakfast will be ready at the same hotel you stay overnight. There is a suitable stop on the way for lunch. Food can choose from their Menu. Normally we take early breakfast in the hotel around 7 am Lunch around 12 to 1 pm on the way, and dinner at around 7:30 – 8 pm. It is advisable to carry extra food like nuts, chocolates, cookies, and nutritional foodstuffs during the Upper Mustang trip. Our staff team also brings extra foods (Biscuits, chocolate, nuts) to share in tea time.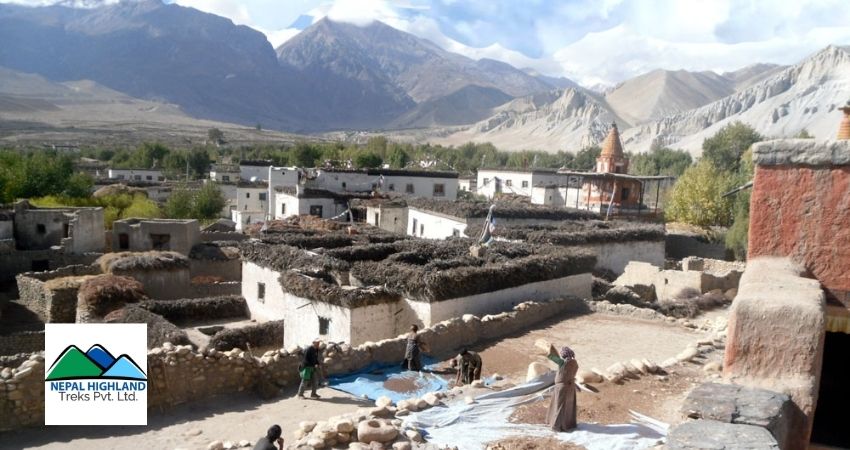 Medical facilities in Upper Mustang
Medical and hospital facility in Upper Mustang region is poor. Upper Mustang is a remote isolated area of Nepal boarding to Tibet. Kora La pass situated 4,660 meters is the maximum altitude in this region. 3840-meter altitude Lo-manthang is the maximum altitude we stay overnight on the Tiji festival tour. It is less altitude in the Himalayan region comparing other regions. So, it is less chance to get sick due to high altitude.
Team of Nepal highland treks brings basic medicines using for headache, nausea, vomiting, racing, antiseptics, ORS, and more. If someone needs immediately a primary treatment in case of any emergency our guide is trained in basic healthcare. In any difficult health conditions, immediately rescue till Pokhara or Kathmandu is only the way.